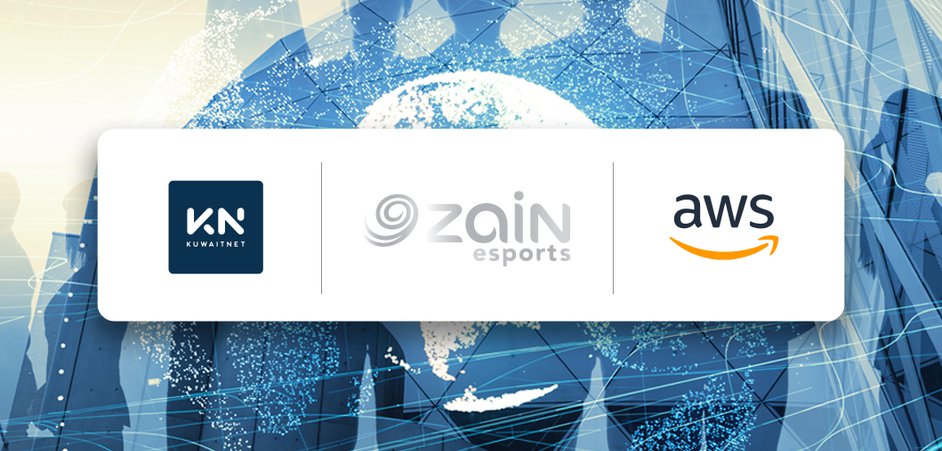 Written by Jabin Jawad
Jabin Jawad is a Systems Analyst under the Pre-Sales team at KUWAITNET, primarily focusing on Cloud Architecting on Amazon Web Services - AWS Cloud. His interests are rooted in cloud technologies, metaverse, and football.
---
Delivering transformational business results with KUWAITNET and Amazon Web Services
Executive Summary
Zain is the region's leading provider of mobile telecommunication services. As part of the organization's commitment to digital transformation and youth development, Zain collaborated with KUWAITNET to construct a unique website with the core purpose of managing and organizing various gaming events for players around the world, namely, Zain eSports. As a trusted AWS Advanced Consulting Partner, KUWAITNET served Zain eSports with unmatched web solutions to design, develop and host a robust website platform built on fundamentals of security, scalability, and reliability, while reflecting the brand's influential identity across the user experience.
About Zain
Headquartered in Kuwait, Zain serves as a pioneering digital hub and notably the first mobile telecommunications company in the Middle East and Africa (MENA). The organization is a giant in the landscape of rigorous innovation. The company's vision and brand identity are grand, with its aim to "become the leading provider of innovation and digital lifestyle communications".
Established in 1983, Zain has masterfully proven its dominant company culture, with the organization's effective decades-long commercial presence across 22 countries and amassing almost 50 million active customers while exponentially continuing its healthy growth.
Adding to their diverse portfolio as an Internet Service Provider (ISP) and service delivery advocate, the Zain app is also recognized as the most advanced telecommunication application in the zone and has been engineered on their native network as a home-grown solution, ensuring best-in-class functionality so as to empower their customers digitally and bring everyone closer to their wonderful world.
About the Project
With an objective to augment the existing ecosystem of online gaming, Zain launched Zain eSports, a regional gaming powerhouse that hosts, organizes and sponsors gaming events. With the esports brainchild, Zain delivers a unified platform experience consisting of an enticing collection of events where gamers can also register themselves to any of the upcoming sessions and watch live games. The facility of contacting the organizers and browsing health topics is also available for gamers and is part of the consolidation.
Gamers can also avail themselves of the insights of any and all events once engagement persists. During the period the event is terminated, all the media content is promptly offered on-demand, spanning each event from beginning to end for convenient and robust play-back. A news blog comprising the recent updates associated with the gaming world as well as the tournaments and Zain activities are also presented as interactive dashboards.
Purchasing top-rated games and corollary products is also an available added-value option featured on Zain eSports for gamers. To add to this, players can also browse and avail themselves of other services and products online.
Customer Challenge
The client wanted to achieve its goal without being stuck in technical complexities and eliminating the need for setting up separate IT infrastructure. Upon preliminary analysis, it was found that the initial legacy model needed more time, money, effort, and resources than they wanted to invest. To overcome these various challenges spanning cost-optimization, performance efficiency enhancement, and reliability, Zain sought to collaborate with a strategic partner who not only harnesses the power of AWS but also shares consistent maintenance and support capabilities.
The main concerns of the customer are related to the security, scalability, and cost-effectiveness of the platform in order to handle concurrent traffic workloads effectively and create an exceptional digital experience. In consideration of the initiative's context as a freshly curated platform, these criteria must be held in utmost regard to avoid adoption risks. In the event that these imperative business and IT needs are not adequately met.
In terms of security, the platform must actively take into account the strict protection of end-user information via multiple controls to safeguard publicly identifiable information and conjure trust. Additionally, with Zain E-Sports' initiative traction anticipated to garner exponential traffic growth, the solution must hold importance for a loosely coupled architecture. This is to allow for iterative enhancement of the platform as it thrives onwards. Further, as a newly inaugurated initiative, the Zain E-Sports portal must subscribe to an adaptable business model that leverages the best-case scenario for predictive cost modeling paradigms.
Why AWS?
Amazon Web Services (AWS) is the world's most comprehensive and broadly adopted cloud platform, offering over 200 fully-featured services across data centers globally. Millions of customers including the fastest-growing startups, largest enterprises, and leading government agencies are using AWS to lower costs, become more agile, and innovate faster.
Zain's confidence in the AWS solution stems from its alignment with the organization's core tenets as an active innovator and executor. The benefits of AWS at a glance include security, customization, pay-as-you-go pricing, simple automated scheduling, flexibility & scalability, and consistency and reliability.
Why choose KUWAITNET?
Our technical team's comprehensive knowledge of AWS cloud and its services is the prime reason for our long-standing partnership with AWS. KUWAITNET provides thorough analysis, systematic assessment, cloud strategy, architecture design, and implementation solutions to support customers towards their journey to the cloud. Zain's trust in KUWAITNET derives from our unique differentiators in criteria-driven solution architecture, customer-centric experience building, and efficient project management methodologies.
As an AWS Advanced Consulting Partner, KUWAITNET facilitates future-proof solutions with exemplary support. Our team of AWS certified professionals are skilled in catering to customers throughout the process of cloud adoption, implementation, and maintenance. This includes services throughout the solution lifecycle such as analysis, planning, design, refinement, migration, operation, optimization, and more.
The Solution
To close any gaps and ensure comprehensive addressing and mapping of requirements, a preliminary analysis of the existing environment was conducted. In particular, priority was placed on safeguarding data, ensuring platform content integrity at scale, as well as deploying SSL/TLS certificates for compliance fulfilment. Additionally, auto-scaling mechanisms are put into place for emphasis on elasticity capabilities. Further, and to illustrate the powerful economic value, cost-modeling schemas are built-in for monitoring usage periods to ensure the ideal provisioning of resources during peak hours.
To meet the requirements of security, scalability and cost-efficiency KUWAITNET has implemented the solution on AWS using multiple services.
KUWAITNET implemented strong Identity and Access Management using AWS IAM, cross-account roles.

Ansible automation is used in the project to launch the environment as Infrastructure as a Code (IaC). This allows it to quickly spin up the whole environment for development and testing purposes and during DR.

VPC setup with multiple segregated subnets for each layer of the architecture.

The application load balancer receives traffic and load balances it to multiple backend Web Servers distributed across multiple AZs, and the auto-scaling group to handle the traffic spikes.

Static assets are served from the S3 bucket to reduce the traffic on web servers.

No direct public access was provided to the servers, the access is restricted to the corporate office-specific IPs via bastion host.

Implemented managed database layer (RDS) with multi-AZ implementation for the high available database backend.

CloudWatch for monitoring the environment and CloudTrail for logging.

Pay as you go model pricing model adopted to gauge the usage pattern and to baseline the infrastructure requirements.

Once the baseline infrastructure is identified the next step is to reserve the baseline capacity requirements to optimize the cost.
Architecture Diagram
Results and Benefits
KUWAITNET architected and built out the Zain eSports's infrastructure according to AWS and security best practices to meet Zain's requirements for a cost optimised, highly available, scalable and secure hosting environment. The KUWAITNET's AWS team worked with Zain's management and software development team to successfully host the website in this new environment while anticipating various factors such as traffic spikes and distribution, ease of deployment and long-term dependability. Some notable benefits that directly sparked initiative engagement include audience trust in data security measures implementations, an intuitive website navigation experience, platform scalability, operational reliability, a significant reduction in data centre footprint, expedited cloud migration path, and improved costs. KUWAITNET continues to support and maintain Zain eSports's new environment under a Managed Service Level Agreement, curated for this scope of work.
About KUWAITNET
KUWAITNET was incorporated in 1997 with the primary goal of offering competitive and outstanding professional IT solutions to fulfil the local demand with the rise of the Internet. With modest beginnings as a web hosting company, we have grown to provide complete IT solutions including, but not limited to dedicated servers, network consulting and planning, and customized development solutions. Our foundational principles of innovation, ambition, quality, and agility drive us to guide our clients for transformational success. To showcase our commitment to continuous improvement, we have curated the KUWAITNET innovation lab, a research-driven department with the focused purpose of creating dynamic, disruptive, and visionary home-grown solutions.
By definition of the Amazon Partner Network category tiering, an Advanced Consulting Partner effectively accelerates the customer's navigation of the AWS portfolio by designing, building, and managing their solution workloads on the cloud. KUWAITNET's attribution to this partnership category equips us with the know-how and expertise to act in a technical advisory capacity. Our exposure to a wealth of resources and programs makes us the ideal driving force for enabling customer success at every step of the process. Our AWS-certified professionals are well-versed in cloud architecture design and deployment best practices. We do conduct AWS workshops program for our customers called Immersion Days, which will help them to understand and experience more about AWS. This program includes custom presentations, hands-on labs sessions, and many more tools to engage our customers with the AWS ecosystem elements first-hand.
AWS, Casestudy, Zain,
---