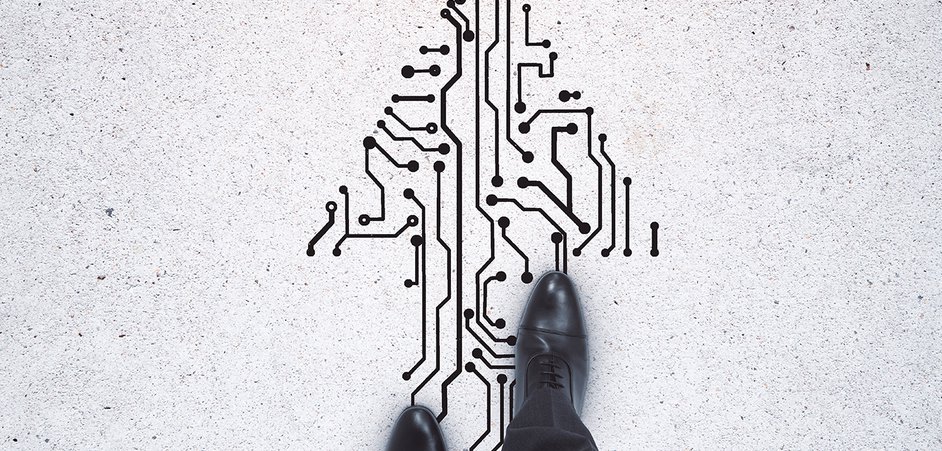 Written by Jabin Jawad
Jabin Jawad is a Systems Analyst under the Pre-Sales team at KUWAITNET, primarily focusing on Cloud Architecting on Amazon Web Services - AWS Cloud. His interests are rooted in cloud technologies, metaverse, and football.
---
Going digital refers to integrating technology into all aspects of a company to improve efficiency, customer engagement, and overall performance. This shift to a digital business model involves many technological solutions, including digital marketing, e-commerce, cloud computing, data analytics, and automation.
In today's fast-paced and competitive business environment, going digital is becoming increasingly important for companies of all sizes and industries. In addition, consumers' widespread adoption of technology has created new opportunities for businesses to engage with customers in innovative ways.
By going digital, companies can gain a competitive advantage by improving customer experience, streamlining operations, increasing efficiency, and gaining valuable insights into customer behaviour and preferences. However, going digital also requires careful planning and execution and investment in technology, infrastructure, and personnel.
What are Firm Value and Performance?
Firm value refers to the worth of a company as determined by the market value of its assets, liabilities, and overall financial health. This value is impacted by many factors, including the company's revenue and earnings, growth prospects, competitive advantage, management quality, and overall economic conditions.
Performance describes how well a business is doing in terms of its financial outcomes, including its sales, earnings, and profitability. It can also refer to the company's success in achieving its goals and objectives, such as market share, customer satisfaction, and employee morale.
The relationship between firm value and performance is complex and can be influenced by several factors. For example, investors view a company with strong financial performance as more valuable and therefore has a higher market value. On the other hand, a company with a high market value may not necessarily have strong financial performance, as its value may be driven by other factors such as expected future growth or market sentiment. Ultimately, the relationship between firm value and performance may be used to assess a company's overall health and potential for future success.
The implication of Firm Value and Performance on Going Digital
The digital transformation of a firm can have a significant impact on both its value and performance. Here are some of the key implications of going digital on firm value and performance:
Firm Value:
Increased efficiency: By automating processes and streamlining operations, a firm can increase its efficiency, reduce costs, and ultimately increase its value.

Improved customer engagement: Going digital can help a firm better engage with its customers and increase customer loyalty, which will thereby lead to increased revenue and improved brand reputation, both of which can increase the firm's value.

Better data management: Digital tools can help a firm better manage and analyze data, which can inform decision-making and improve overall performance.
Performance:
Improved productivity: By automating manual processes and streamlining operations, a firm can increase productivity, reduce errors, and ultimately improve its performance.

Increased revenue: Going digital can help a firm reach a larger customer base, increase sales, and ultimately improve its financial performance.

Better decision-making: Digital tools can provide a firm with real-time data and insights, which can inform better decision-making and improve overall performance.

Increased reach: Going digital can help businesses reach a larger customer base and expand their market, increasing revenue and growth opportunities

Cost savings: Automation of manual processes and streamlining of operations can result in cost savings for businesses.

Increased competitiveness: By embracing digital technologies, businesses can gain a competitive advantage over those that do not, positioning them for success in the long term.
It's important to note that going digital is not a guarantee of success. The impacts on firm value and performance can vary depending on several factors, including the industry, the specific digital initiatives pursued, and the firm's overall strategy. Nevertheless, for many firms, going digital can provide a competitive advantage and improve both firm value and performance over time.
Conclusion
Going digital can significantly affect a company's performance and worth. Businesses may boost productivity, cut expenses, and enhance overall performance by automating routine operations, enhancing customer engagement, and offering real-time data and insights. These advantages may result in higher earnings, expansion possibilities, and competitive advantage. However, it's crucial to approach digital transformation with a well-considered strategy and consider the associated risks and obstacles involved, including significant investment and potential disruptions to existing processes and systems. Going digital will ultimately affect a company's value and performance depending on the specific digital efforts and the broader business plan.

DigitalTransformation,
---